Board & Livery
Our standards for horse care are quite high. &nbsp This includes our belief that horses need good turnout for as much of the year as possible.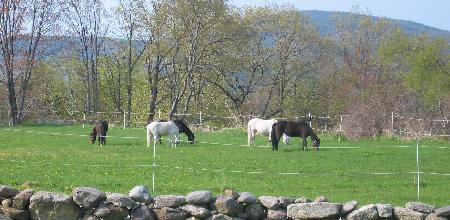 As the newest owners of this lovely hilltop 43 acre farm, we spent our first year resting the pastures, reseeding, and fertilizing as needed. &nbsp This program continues each year.
All of the horses at Kearsarge Meadows are kept in stables located along side the indoor arena, making riding easy and convenient in all weather conditions. &nbsp The horses are all turned out year round, weather permitting. &nbsp When turnout is not possible, light exercise can be provided.
All of our stalls offer heated water buckets in the winter, rubber mats, and good quality shavings for bedding. &nbsp The outdoor pastures also have heated water troughs, allowing the horses free access to water all day.
Our boarders are invited to visit their horses up to 10 pm at night.
Our Board & Lesson Fees are posted online.